G2 is a well-known platform that ranks products and sellers based on a combination of authentic reviews from its vast user community and data aggregated from online sources and social networks. The culmination of these scores is visualized on G2's proprietary Grid®. This invaluable tool assists users in comparing products, simplifying the buying process, and pinpointing the top products grounded in real-world peer experiences.
It fills us with immense pride to announce that Jmix has not only been recognized but has also earned distinction across several crucial categories on the G2 Grid®. This highlights our commitment and the value we consistently deliver to our customers.
The rankings are almost too plentiful to name individually – an excellent problem to have – but we've assembled a few highlights for you:
Jmix received this recognition based on several high-value characteristics, including Ease of Use, Language Support, Customer Service, Time-saving Capabilities, and User-friendliness. This reflects our "learning by doing" approach and our focus on user-friendliness and efficient service.
Spotlight Categories:
Java Web Frameworks
Application Development Platforms
Business Process Management Software
We especially want to highlight our notable position in the G2 Grid® for Java Web Frameworks, which further underscores the growing appreciation and trust in Jmix within the developer community.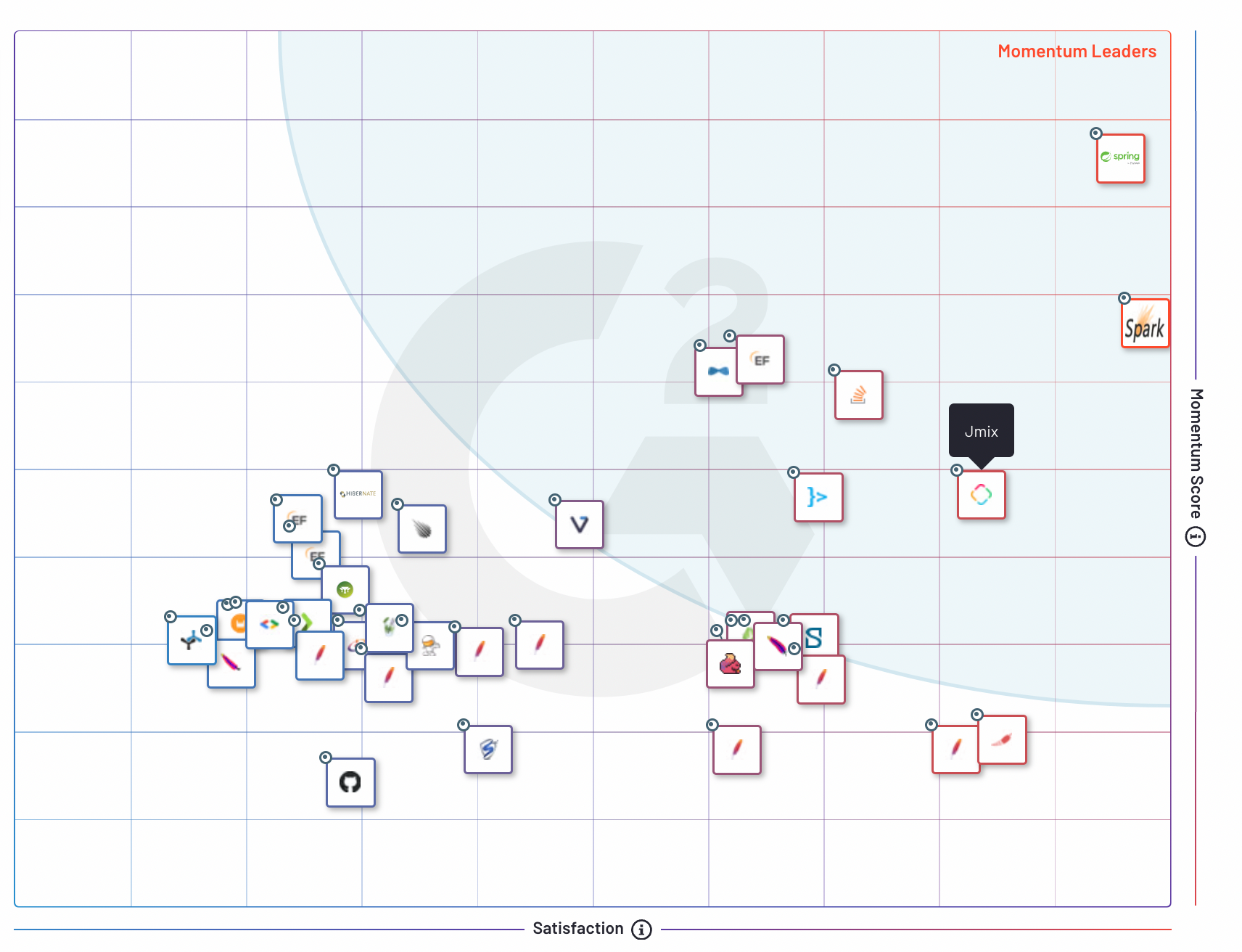 G2 Grid® for Java Web Frameworks Highlights:
Momentum Score: G2 Grid® showcases Jmix's outstanding achievements, especially on the "Momentum Score" axis. This is a proof of our company's rapid growth and fast adoption rate in the developer and entrepreneur communities.
User Satisfaction: Our placement emphasizes high ratings and positive feedback from our diverse users.
Quest for the Pinnacle: We have set our eyes on the coveted upper right quadrant - the area of "Momentum Leaders". Backed by the continued support of our active community, we are optimistic about the milestones ahead.
Also this season, the Jmix team is happy to have been awarded the "High Performer" badge on G2. An average rating of 4.8 out of 5 based on G2 reviews demonstrates our commitment to unrivaled support and positively impacting our customer base.
Discover firsthand accounts of Jmix experiences or share your unique journey with Jmix on G2's review platform.