Tools
Easy start. High productivity. Less boilerplate code.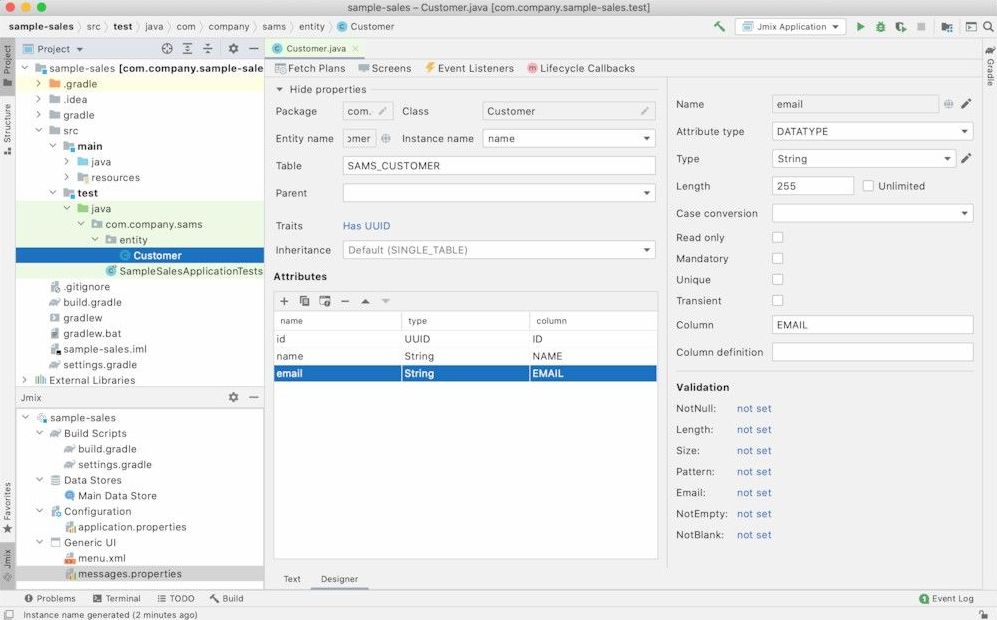 JMIX STUDIO
A full featured Rapid Application Development tool offering extensive code generation, visual designers, smart prompts and convenient code navigation. Studio is leveraging the power of the world's most popular Java IDE, so it will be already familiar to many developers.
Develop enterprise-grade solutions with comfort and high productivity!
STUDIO IS A PLUGIN FOR INTELLIJ IDEA
FEATURES COMPARISON
Free
Commercial
GENERAL
Configure a new project
Framework version upgrade
CODE GENERATION
Build script
Data model
Database reverse engineering
DDL scripts and DB versioning
Backoffice UI screens
Backoffice UI theme
Customer-facing UI
Services, listeners, event handlers
Localized strings
DEVELOPMENT
Intuitive navigation
Refactoring
Context-aware injection
Smart hints and quick-fixes
Hot (re)deploy
VISUAL DEVELOPMENT TOOLS
Visual data model designer
WYSIWYG screens designer
Visual user permissions configuration
Notice
After you install Jmix Studio and create a new project, Jmix framework will be downloaded automatically.

If you want to migrate a project to a new framework version, simply open the project in Studio and select the new version on the Project Properties page.
What's next?
Follow the Quick Start guide to get up and running in 15 minutes.
Quick Start