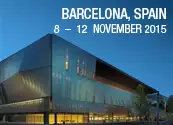 Haulmont Technology has been selected by Gartner to present CUBA Platform as an 'Emerging Technologies Exhibitor' at the Gartner Symposium, the world's most important gathering of CIOs and senior IT executives, taking place 8th - 12th November in Barcelona.
We will also present a session in the Emerging Tech Theatre, titled 'Harnessing DevOps as a competitive advantage in the new digital enterprise'. The presentation will describe world examples of DevOps that yield commercial benefits and feature case studies from companies using business process automation, dynamic scheduling and smart decision-making systems to drive growth.
For further information please visit the conference website. Haulmont's presentation takes place in ET8 at 18:30-18:45 on Tuesday November 10th.