Over the last months we were working tirelessly to bring our new website into life. Starting from the last week, frequent visitors could have noticed that almost every other page has been changed to provide more clarity to the content.
To bring in more usability into using and buying our commercial products and services, two entirely new interfaces were added: Subscriptions Management in user account profile and a brand-new Store.
New Store
We are happy to introduce the new Store - a one-stop shop for all CUBA Platform commercial products and services.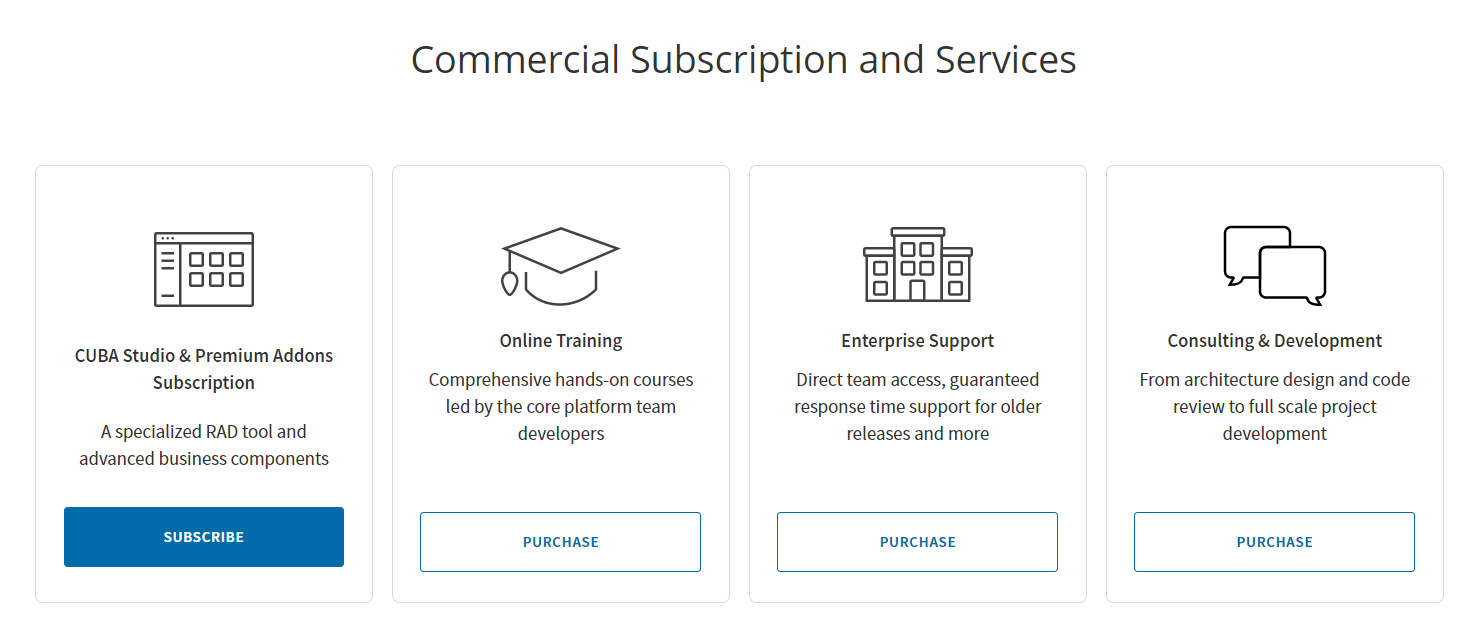 More options for CUBA Studio & Premium Addons Subscription
Based on the community requests we decided to add more flexibility and offered more options to obtain a CUBA Studio & Premium Addons Subscription. Depending on the project requirements, you can get your key for a shorter (3 or 6 months) or longer (2 or 3 years) period. We introduced the discount system depending on the period length while the default 1-year license stays unchanged and costs familiar $389. Valuably for many clients, the invoice is now sent automatically straight after the purchase.
Trial License directly from the Store
Together with a variety of options to obtain a commercial subscription, the Store received built-in functionality for providing trial licenses. Now you can get one right from the Store interface without the need to contact our team. The system will request to provide basic information and will charge a symbolic 1 cent to check the validity of your card.
Note: you can only apply for a trial license once.
Consulting services from 1 hour and 3 times more affordable Commercial Support
Our team is always happy to provide help with your project, but now our consulting services have become even more affordable. In the Store, you can purchase the required amount starting from 1 up to 80 hours and get up to 15% off from your total price.
Same applies to our SLA (Service Level Agreement), which is the most helpful at production phase. We issued a new, lighter Base Support Agreement with a much more affordable price tag. For those who need an immediate solution or want to give it a try we even propose a Single Incident option!
Subscriptions management
For better transparency and convenience all new subscriptions can now be found and managed on your Profile page.
Multiple license keys are now grouped into a Subscription, thus all of them will have the same expiry date. By default your new subscriptions will be renewed automatically after expiration, though you can cancel the renewal at any time. You can also easily add or remove license keys from a subscription.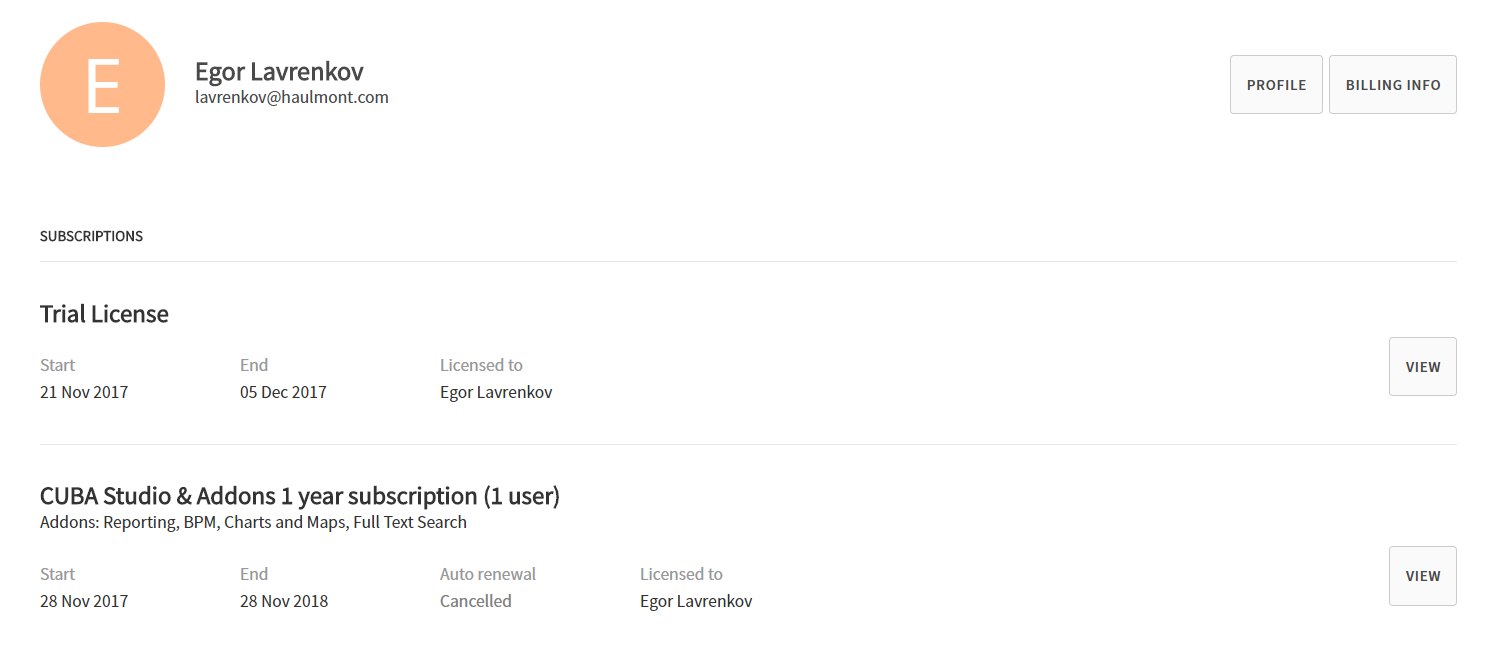 All your license keys are now available in your profile. Just click the View button to see your license keys with corresponding expiry dates.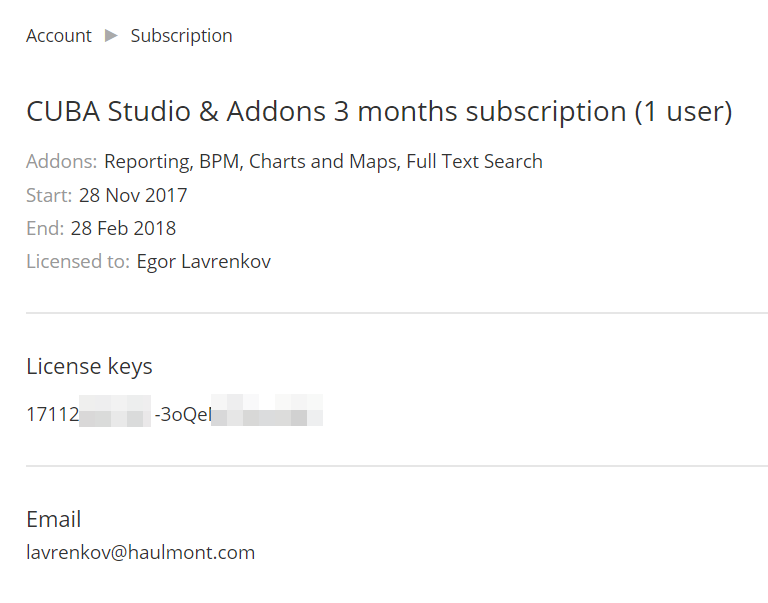 Another convenient feature is the ability to see and download certificates for all training courses your team members have passed.
Note: information about previously purchased licenses or passed training courses is currently not available. We are working on adding previously purchased licenses to the profile as well, so you should be able to access them shortly.
Powered by CUBA Platform
As you may know, we use CUBA Platform for most of our projects and we also suggest CUBA as a backend solution for websites. So, it was an obvious choice for the Store backend. As you would expect, we used Polymer client for customer-facing UI, and Vaadin for admin UI, while other parts of the website are still built on top of a classic CMS.
So the new Store acts as another good showcase of using the framework.
Going further
We don't stop with this update. Our further roadmap includes useful features like marketplace, referral program, enhanced account and more. Stay tuned! If you have ideas or suggestions about new website functionality, don't hesitate to contact us.