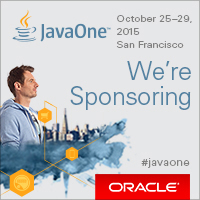 We are happy to announce that CUBA Platform will be attending JavaOne - the world's most prestigious Java event in the heart of Silicon Valley! You are most welcome to meet the CUBA team on our stand and discover more or share your ideas about the platform.
If you are a fan of the learning-by-doing approach or just prefer to try things for yourself then join our Hands-on Labs on Wednesday, 28th at 10am, 12.30pm and 3pm. With the help of our CUBA experts, you will develop a fully-functioned business application in just a couple of hours. We're also hosting a conference session 'How to Develop Highly Customizable Off-the-Shelf Software' on 26th Monday at 4pm.
If you would like to go and see us and other companies at the expo and haven't arranged a ticket, we are giving away a limited number of free Discover Passes. Simply register at www.cuba-platform.com and contact us to apply!