As the end of 2022 drew near, many of our readers and followers reached out to us, wondering why we had yet to publish our annual recap. We understand the anticipation, but we want to reassure you that it was not due to our lack of progress—quite the opposite. We were hard at work finalizing our product backlog scheduled for 2022 and finalizing marketing positioning, shaping a Less-Code platform concept. In this blog post, we will uncover the details of our journey and recap the product positioning changes.
Presenting Less-Code Concept
In mid-2022, we first announced a new Less-Code platform concept during our webinar in July. In the webinar, we've shown the major differences between Jmix and traditional Low-code. In short, we assumed Low-Code wouldn't have strong popularity in the mid-term future, tending to move to the no-code space or toward professional programming. No code examples widely demonstrate good traction among power users, and we recognize their massive impact on citizen developers' engagement. Such technologies like Airtables, Bubble, Zappier, etc., have already become standard wording for the No-Code products. The main reason we don't believe in Low-Code is their inability to gain a broad community because of their proprietary nature. Successful Low-code platforms are not isolated solutions. They are always parts of wider platform ecosystems like market leaders: Oracle APEX, Salesforce, and Mendix. They offer their Low-code integrated development platforms complementary to a core vendor platform technology. Recent news about upcoming AI code assistance progress (e.g., ChatGPT, Copilot) demonstrates a growing threat, especially for Low-Code areas without platform ecosystems. New capabilities for developers of any skill level eliminate the difficulty of writing code same time keeping in place the requirement to understand what you should write. This assures us that it will faster shift the focus to developers' productivity technologies and tools connected with the professional development environment, assisted by AI. And this is precisely what Jmix does by representing a Less-Code paradigm. Summarizing the Less-code concept, we've published a dedicated section on the Jmix website uncovering the topic "Is Jmix a low-code platform?".
Revisiting Jmix values
Beyond that, we've invested in marketing research to discover how Jmix helps to reach tangible business results among the existing community. A year ago, we stated that we would focus more on those people who care about business results. Thus, our goal was to identify target personas, acquire feedback on Jmix values and put this information at the core of the product strategy. After performing a series of interviews, we identified the following target groups of users and explicit business requests, which Jmix addresses: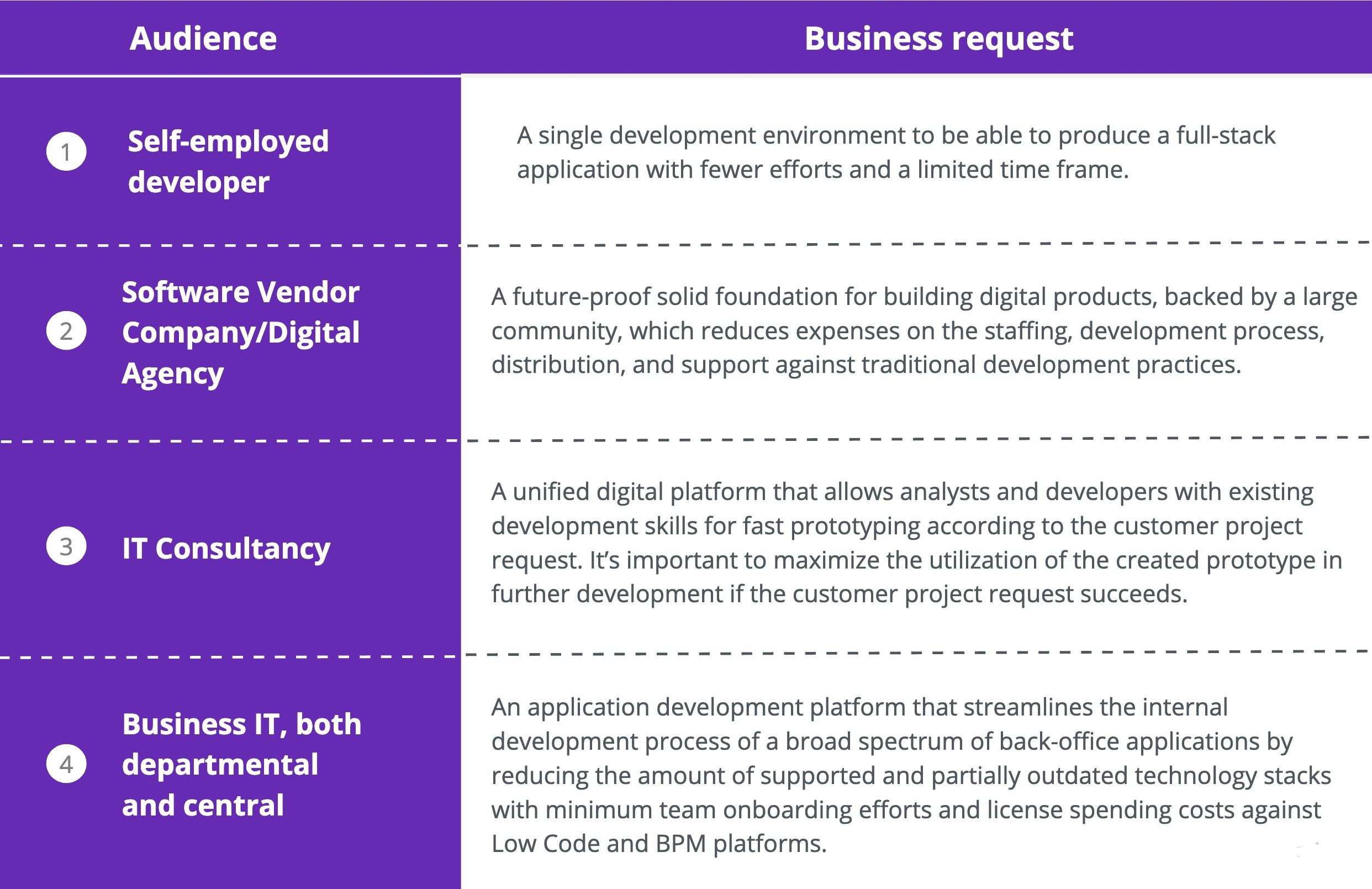 As a result of harmonizing the marketing investigation results, we came to the following set of Jmix values which will shape further product development roadmap:
Enables fast development of back-office applications implementing modern Java technology stack for companies and teams with a strict budget or time limitations;
Provides developers with an existing skillset a technology for fast prototyping of back-office applications, which can be transferred to enterprise-ready solutions built on Java technology stack;
Decreases the entry barriers and complexity of modern web development for beginners and developers from different programming technologies.
We've launched an easy-to-use ROI calculator on the website to assist those who evaluate Jmix technology for future projects and need a tool to convince potential stakeholders. When it comes to business – it is usually about money. The ROI calculator tool helps to compare Jmix against two competitive approaches – Low-Code/BPM platform and Traditional development. Just make your business case data input, and it will show the ROI forecast. Please note that it can send a disposable calculation report in your e-mail. Visit the ROI calculator page for details.
And the last but not less important part of our marketing improvements is the go-to-market strategy. In recent years, our partners have significantly boosted performance by providing localization, functional enrichment with add-ons, community growth, and sales support. "Think globally, act locally" becomes essential for product delivery. It also makes sense that end-users can purchase Jmix licenses and local services in their native language with the help of our channel partners. In 2022, we introduced three partnership levels – Value Added Reseller, Independent Software Vendor, and Authorized Service Provider. And if you and your company feel the power of Jmix, why not try it and upgrade our relationships by becoming an official partner?
How will it further impact the Jmix roadmap?
Finally, we've considered the list of Jmix values internally and will develop the product according to them. Announcing this, we share our mindset to help you better understand our motivation in managing the Jmix roadmap and priorities when making decisions on feature design. In the next article, Product Manager Konstantin Krivopustov will go deeper into the technical details of the Jmix platform architectural concept and the mindset behind this. Stay connected and be productive.