Compiler develops a bespoke ecommerce platform for the maritime industry using Jmix
Reduced costs and time taken to deploy by over 50%

Complete ecommerce platform developed by a single developer

6000+ users with only one developer licence
Background & Story
Compiler provides software development services including custom-developed mobile apps and integration solutions on time and on budget. The company works closely with businesses and organizations within the maritime industry and has an excellent understanding of the challenges faced by shipping companies every day.
The Challenge of Development Compiler Faced
One of the challenges the industry faces is purchasing necessary supplies and equipment when a vessel reaches a port. Purchases are usually made through specific companies called 'port agents' but it can be difficult to locate and access these agents in various docks across the globe, leaving vessels to rely on agent catalogues and word of mouth.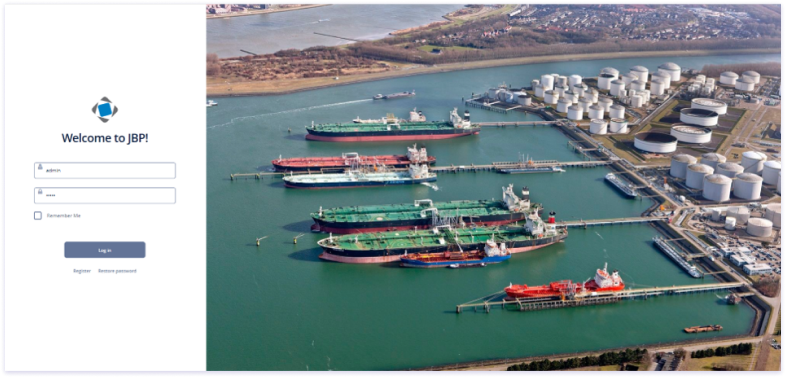 Login Screen
Compiler identified an opportunity to develop a ecommerce platform to reduce the problems associated with port agents. Initially, there was quite a lot of resistance to this solution within the industry as many stakeholders were used to non-digital solutions. Compiler decided to develop a new solution as the business was confident that they would get buy-in from the industry once they could see the benefits.
Compiler had a small team and budget for developing the test solution so needed to consider carefully which platform to use for development.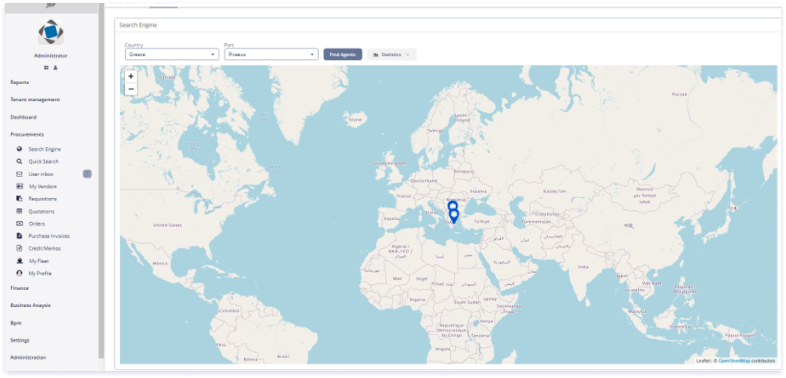 Agents Search Engine by Location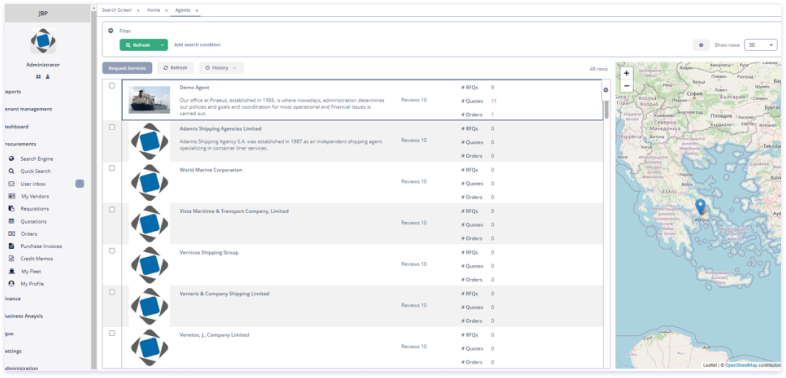 Search results by Location
Why Jmix?
The team had experience in rapid application development on platforms such as .Net so they ran tests to compare the speed of development on .Net and Jmix; as a result, they decided that knowing Java and Spring, development applications using Jmix is very productive.
Solution
Compiler required approximately 12 months and three stakeholders to build a product from initial concept through to production deployment. The three staff involved in the process were:
01

Business analyst; responsible for documenting all processes

02

Partner manager; responsible for liaison between Compiler and shipping companies

03

Developer
By using Jmix the team cut development costs, and time taken to develop and deploy the solution by over 100%.
Result
The new solution makes it easier for vessels to locate port agents and send purchase requests.
There are two company types listed within the new application:
Shipping companies that manage vessels (demand)
Port agents that provide services (supply)
Shipping companies can now locate port agents and prior to arriving at a specific port, send a purchasing request online.
Compiler's platform features:
List of pending cases (Requests)
Details of a Request
Services Catalogue
Internal messaging system
Custom Reports (Actual vs Budget, etc)
Account Details
Analysis of Services by Vessel / Port
Historic Transactions (Quotations, Orders)
Compiler has over 6000 agents active on their platform and is now inviting shipping companies to start using the platform.