Streamlining Print Production Management with Jmix
1 developer without Java experience

Pet-project turned into startup

No limitation in customization and flexibility
Problem
In the world of print production, efficiency, precision and streamlined processes - are crucial for delivering high-quality printed artifacts. This is where the Print Production Management (PPM) solution comes into play, revolutionizing the way multi-layered printed products are managed and produced.
The PPM is a comprehensive tool meticulously designed to address the intricate requirements of producing multi-layered printed artifacts. It serves as a central hub for managing various aspects of the production process, from order management to printing and beyond.
Ramiro Carvalho, an experienced developer with a diverse background, wanted to develop not only a private project but also a proof of concept project for his company. Through PPM, he sought to harness the power of innovative technology to streamline and optimize the production of multi-layered printed artifacts.
As he delved into this project, Ramiro's vision expanded to include 3D printing capabilities and intricate layering techniques. His determination to create a system that perfectly aligns and prints various layers led to the integration of cutting-edge image recognition technology.
Why Jmix
Ramiro Carvalho: "I began my career in software development, but I later pursued studies in mechanical engineering at the same school where I earned my computer science degree. Transitioning into mechanical engineering, I dedicated two decades to the Brazilian aeronautical industry, spending 20 years in their flight test department and an additional 14 years in the FBW software department. Subsequently, I ventured into the system software department, contributing significantly to projects like Fly by Wireless."
With previous experience in software development, Ramiro embarked on a personal project aimed at creating a software solution for multi-layered printing. His idea involved printing sensors, wearables, and stickers that required intricate layering. Recognizing the complexity, he opted to develop a web-based system to facilitate the production process.
Opting for a web-based system, he began with a popular platform that provided the foundation he needed. However, he soon realized its limitations in customization and flexibility, pushing him to explore alternatives.
The decision to explore Jmix's capabilities stood out as a game-changer, allowing him to leverage the power of Java for enhanced event handling and seamless integration across different environments, much like his experiences with Cypress.
Key Features of the PPM Solution:
The Print Production Management (PPM) system efficiently handles multi-layered printed artifact production with the following features:
E-commerce Integration: Seamlessly interfaces with e-commerce software for real-time order updates.
Layering Structure Tracking: Monitors each product's intricate layers for precise positioning.
Staged Production: Enables phased production for flexibility and resource optimization.
Multi-Device Printing: Manages printing across devices with automatic image recognition.
Automated Job Submission: Submits jobs automatically, reducing manual intervention.
Event Logging: Records production events for analysis and troubleshooting.
Media Type Management: Tracks media availability for accurate printing.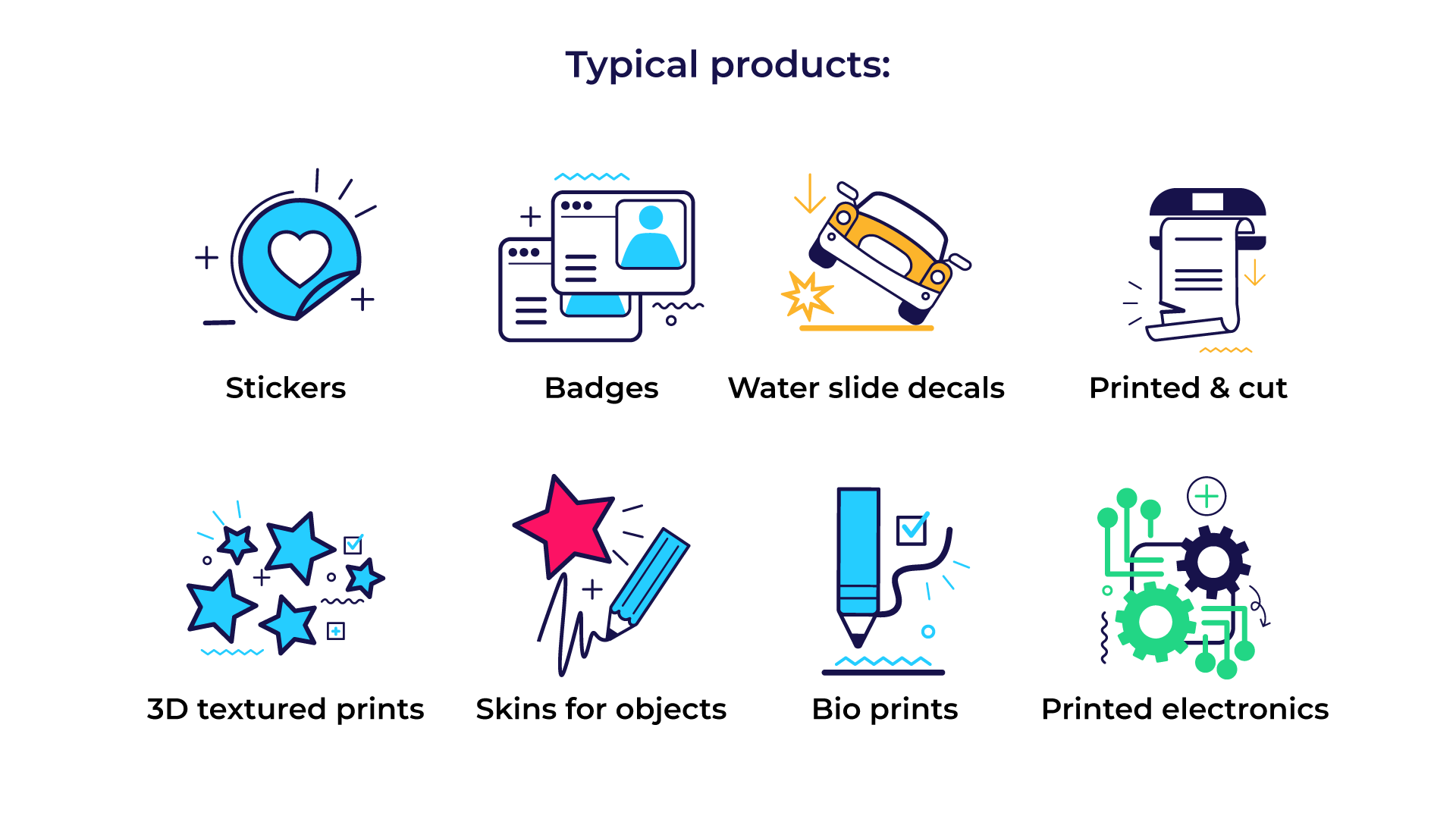 The versatility of PPM extends to a range of printed products, including but not limited to:
Stickers
Badges
Water slide decals
Printed and cut materials
3D textured prints
Object skins
Bio prints
Printed electronics
Result
Ramiro's decision to explore Jmix's capabilities proved to be a pivotal choice, enabling him to leverage the power of Java for enhanced event handling and seamless integration across different environments. This choice empowered him to overcome the limitations of previous platforms and create a highly customizable and flexible web-based system that efficiently manages various aspects of the production process.
Main Software Elements Enabling Print Production Management: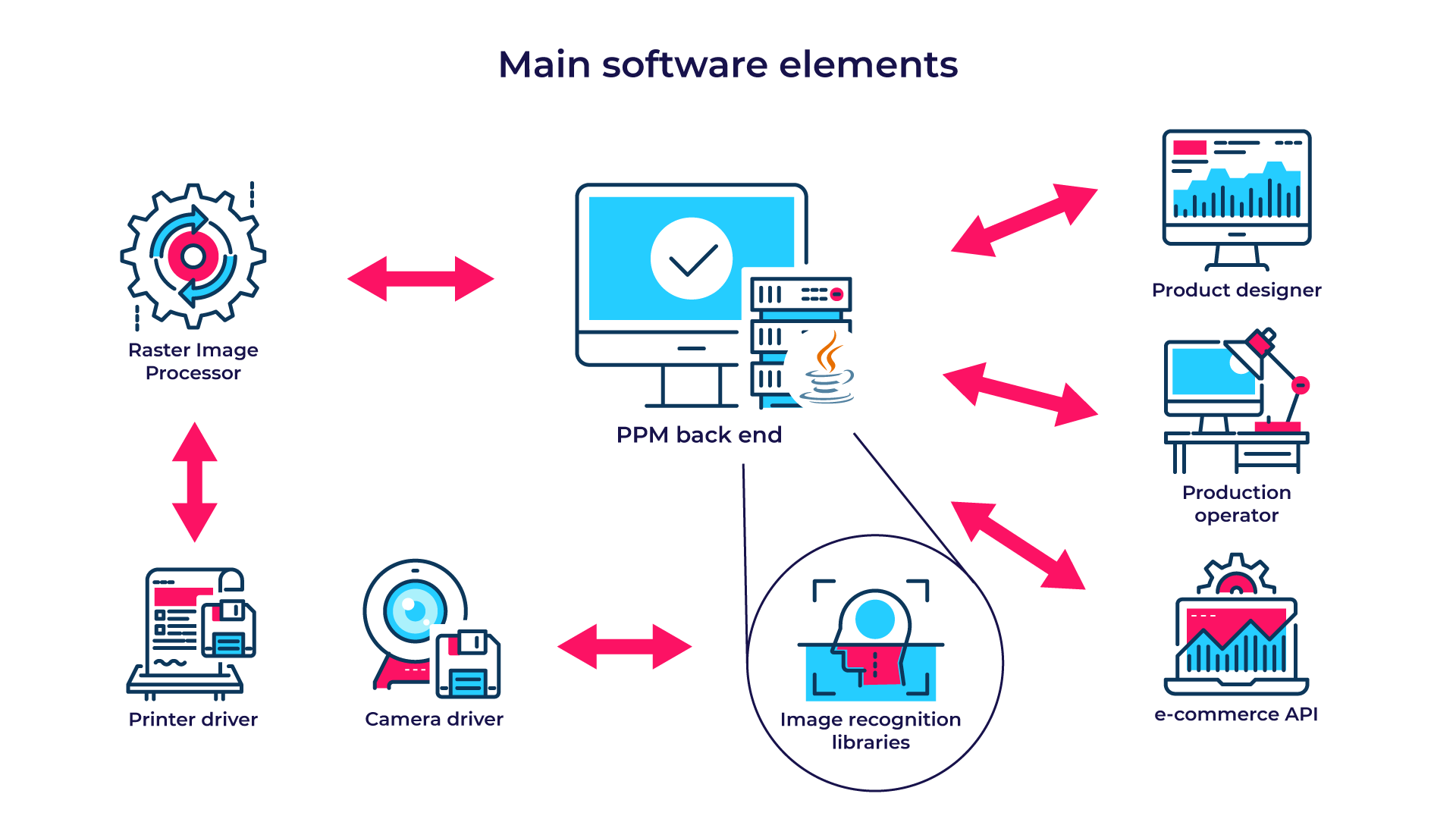 PPM Backend (Java): The core of the PPM solution is a robust Java-based backend, orchestrating the entire production process. PMM Backend ensures seamless data flow, communication, and execution of tasks, enabling the different components to work harmoniously together.

Raster Image Processor (RIP): The RIP is a fundamental component responsible for translating digital designs into printable data. It optimizes images, processes color management, and ensures high-quality output, essential for achieving accurate and vibrant printed artifacts.

The Product Designer creates the digital design files in any design software and uses the Jmix UI to specify the product structure within the application.

Production Operator Interface: The Production Operator monitors the printing of the product's layers and make any necessary interventions also by using the UI.

E-commerce API Integration: Seamlessly integrating with e-commerce platforms, the API enables real-time updates on order statuses, ensuring clear communication between sales and production departments. This integration streamlines order management and enhances customer satisfaction.

Camera Driver: The camera driver is a critical component that interfaces with imaging devices to capture and analyze printed materials. By leveraging image recognition technology, it contributes to precise register positioning and alignment, guaranteeing accurate multi-layered printing.

Printer Driver: The printer driver acts as a bridge between the PPM solution and printing devices. It facilitates communication, instructs printers on how to execute print jobs accurately, and ensures that the final printed artifacts align with the intended design.
The software effectively manages the production of printed products and seamlessly interfaces with other specialized printing software. Its capabilities extend to handling complex multi-layered products, automating sequential production steps based on recognized partial products, and facilitating integration of various operations like printing, cutting, and coating.